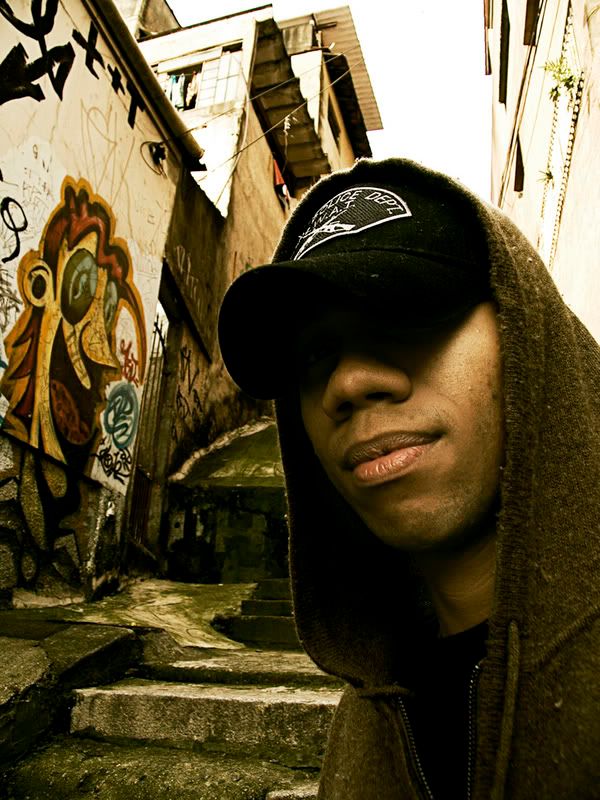 alright boys & girls, get your pencils out,
BTK
from
Identity
is doing his debute Europe tour in March/April, the confirmed dates are:
30/03 Above the Game - Renegade Hardware Album Launch @ Porto, Portugal
31/03 Above the Game - Renegade Hardware Album Launch @ Lisboa, Portugal
06/04 Above the Game - Renegade Hardware Album Launch @ The End, UK
08/04 CembranKeller @ Linz, Austria
13/04 Sussenfenalp @ Budapest, Hungria
14/04 ??? @ Serbia TBC
21/04 Cube @ Croatia
15/05 ??? @ Czech Rep. TBC
rest of the dates are fair game, for bookings in the Baltics and for a full presskit, contact me ->
AIM: coremantis
MSN: henri@ohmresistance.com
Hailing from Brazil, BTK is proving to be one of the most exciting new producers to emerge in the d&b scene and has already built an impressive back catalouge of productions to date, drawing and combining influences as diverse and leftfield as Cidinho & Doca, Jeff Mills, WJ Henze, Dave Clarke, Christian Varela, Underground Resistance, Chris Liebing, Poogie Bear, Mark V, DJ Rip, DJ BamBam, BBking, Nirvana & Metalica as well as grass roots d&b artists such as Cause 4 Concern, Ed Rush & Optical & Bad Company. never one to be tied to one style, BTK has proved his ability to switch between genres with ease as evident in his techno projects and other innovative productions his determination to smash down the boundries that have long been seprating underground music styles grows with every track that he creates.
A pivotal member of the d&b collective 'Identity' a collective of producers spread out over Puerto Rico, Brazil and USA each bringing their own talents and fresh sounds to drum&bass. They have taken the steps needed to learn to follow vibes and ideas through an online merging of their home studios. In a lot of respects the Identity sound is truly a yearning for the merging of the dance floor vibe so prevalent in current drum&bass and a twisted mix of techno styles. Brain Dead which has been recently released on Renegade Hardware's sister label Barcode is one of the crews most successful releases to date. The crew also have tunes signed with Freak, Salvage, Ohm Resistance, Darkitek, Flatline, ELP Collective, Sinuous, Venom Inc, Guerilla n many more. Receiving heavy support from the scenes top artists & Djs such as :- Stu C4C, John B, Raiden, Audio, Nightbreed, Masheen, NC-17, Submerged, Lethal and Khanage, C.A.B.L.E., S.P.Y, Ben XO, Prode, Propaganda, Pendulum, The Sect, Kano, Temper D, Donny, Quadrant, Tetradin, Evol Intent, Ewun, Spor, Infiltrata, Skitty, CorruptSouls, Paul B, Pyro, Sunchase, Counterstrike, Glitch, Jae Kennedy, The Upbeats, Gein, and many many more.
Expect at lot more material to surface as the collective continue to hold their own style in the scene. UK & Europe live apperances are in the pipeline and is the next logical step in their bid for worldwide infiltration.
Taking it to the next level, BTK has launched GRIND RECORDINGS, a new d&b label with a focus on the dancefloor and featuring artists from Brazil and around the world. GRIND has already enlisted the talents of some of d&b's hottest producers including C.A.B.L.E, SPY, Commix, Masheen, NC-17, Tetradin & much more. GRIND RECORDINGS is receiving heavy support all over the world by Loxy, Perpetuum, Fission, Friske, Genr8 (Alliance) and is becoming recognised as one of the world's heavy hitters. Stay tuned to hear more of what one of the world's freshest and most solid new d&b labels has to come.
Tune into the PARANOIA Drum & Bass show every Tuesday 5pm - 7pm [CST] with BTK + Guests Live on
Bassdrive